Place your order in 1-Minute!
1. Choose an item you want to buy, choose the quantity and press the button "BUY IT NOW"
2. Fill and complete the requested details and press the button "CONTINUE TO DELIVERY COST"
3. Choose your delivery location and press the button "CONTINUE TO PAY ON DELIVERY"
4. Lastly, press on the button "CONFIRM ORDER" to place your order.
Shopping for multiple items? Add all items to your cart and access your cart on the top right corner to checkout
PAY ON DELIVERY LOCATIONS: Greater Accra, Kumasi, Takoradi, Tarkwa & Cape Coast.
Outside these locations? No problem! We ship nationwide but a full payment must be made before shipment.

Description
The manoeuvrable alternative to any large walk-behind machine! The B 90 R Classic Bp Pack ride-on scrubber dryer features the new brush head generation. Roller and disc brush heads can be used in different working widths (55-75 cm). The brushes are driven by a star-wheel mechanism. With a turning circle of only 1.6 m, this machine is very flexible and offers excellent manoeuvrability. This machine also features an extended tank capacity and is easy to fill with fresh water. Compact for easy storage and transport, for example in lifts. Openings in the battery compartment ensure adequate ventilation also during long periods of use. An additional flat pleated filter protects the turbine against corrosion.
FEATURES AND BENEFITS
Extremely easy to manoeuvre
Thanks to its very short and narrow construction style, the machine is very agile and easy to manoeuver despite large water volumes. The 90° steering system allows you to turn on the spot. A low centre of gravity ensures excellent road adherence.
Easy operation
The basic functions are easily controlled using the EASY switch. Operating hours can be viewed on the display. Additionally, the roller brushes ensure that water and therefore also cleaning agent are saved.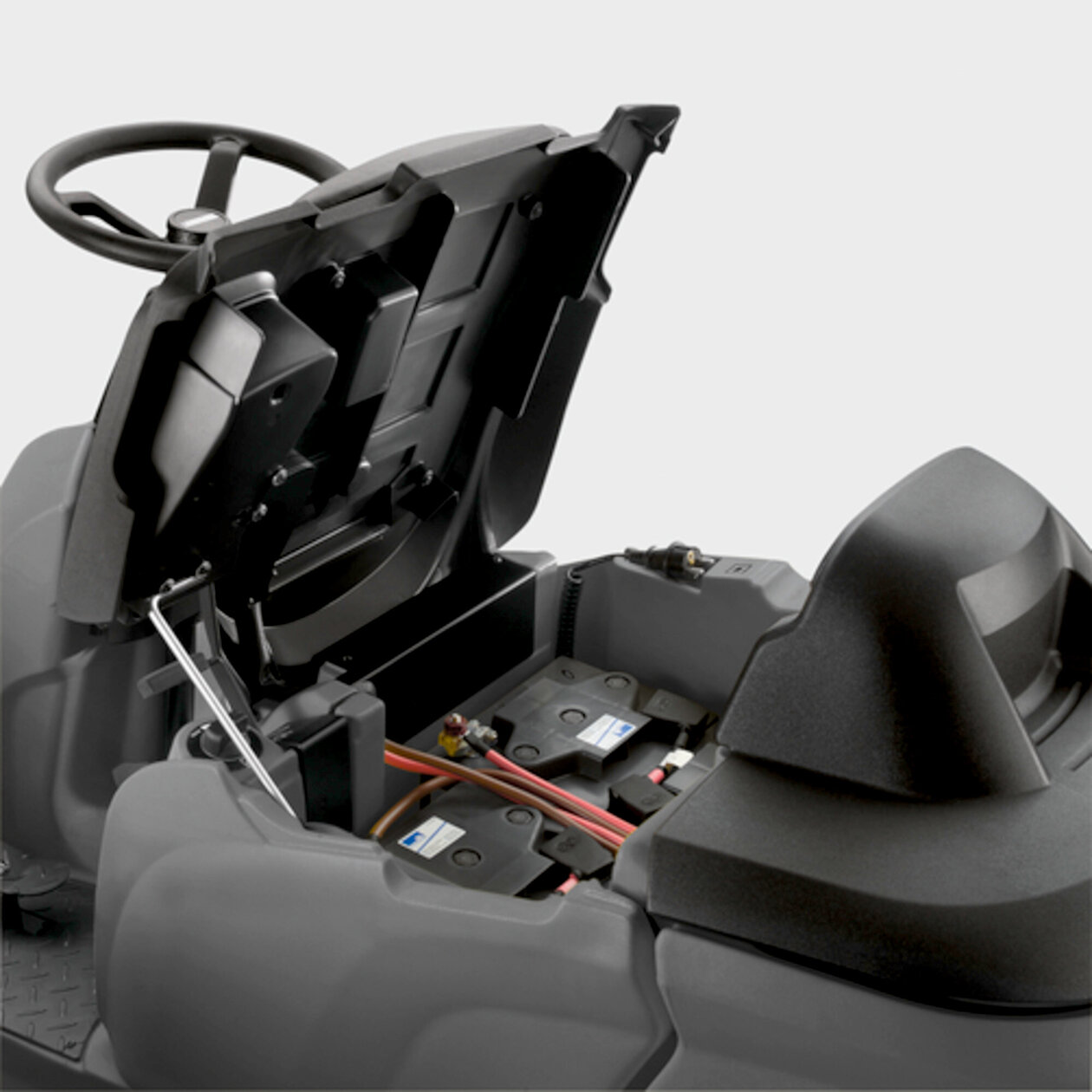 Long running time
Large compartment for a large battery capacity. Maintenance-free gel batteries in the pack variants.
Quick replacement
If required, the brush head can be replaced quickly with no need for tools.
The rollers on the R head can be changed in next to no time.
The brushes or pad drive boards on the D head are discarded using the foot pedal.
Traction drive with speeds of up to 6 km/h
For negotiating steeper gradients. (With solenoid brake)
Straight or curved squeegee
For optimal suction on every floor. (Please order separately).
Large battery compartment
To allow the optional use of larger batteries - for even more service.
Good climbing ability and ground clearance
For easy transport and loading.
Corrosion-resistant flat pleated filter
For protecting the turbine against premature damage.
Short and sleek design
Extremely agile and easy to manoeuver (despite its large capacity).
SPECIFICATIONS
Technical data
| | |
| --- | --- |
| Working width of brushes (mm) | 550 - 750 |
| Working width, vacuuming (mm) | 850 - 940 |
| Fresh/dirty water tank (l) | 90 / 90 |
| Theoretical area performance (m²/h) | 4500 |
| Practical area performance (m²/h) | 2475 |
| Brush contact pressure (g/cm²/kg) | 20 - 315 / 28 - 35 |
| Battery (V/Ah) | 24 / 170 |
| Rated input power (W) | 2200 |
| Traction motor (W) | 600 |
| Waste container (l) | 5 / 7 |
| Sound pressure level (dB(A)) | 69 |
| Weight (with accessories) (kg) | 272 |
| Dimensions (L × W × H) (mm) | 1450 x 800 x 1200 |
Equipment
Powerful traction drive
Battery and built-in charger included
Automatic water stop
2-tank system