Place your order in 1-Minute!
1. Choose an item you want to buy, choose the quantity and press the button "BUY IT NOW"
2. Fill and complete the requested details and press the button "CONTINUE TO DELIVERY COST"
3. Choose your delivery location and press the button "CONTINUE TO PAY ON DELIVERY"
4. Lastly, press on the button "CONFIRM ORDER" to place your order.
Shopping for multiple items? Add all items to your cart and access your cart on the top right corner to checkout
PAY ON DELIVERY LOCATIONS: Greater Accra, Kumasi, Takoradi, Tarkwa & Cape Coast.
Outside these locations? No problem! We ship nationwide but a full payment must be made before shipment.

Description
The SG 4/4 is a compact and robust steam cleaner, which thanks to 4 bar steam pressure impresses with excellent cleaning performance and certified disinfection*. The infinitely variable steam quantity control and the VapoHydro function for the infinitely variable control of the steam saturation allow a perfect adaptation of the machine to the respective cleaning task. The two-tank system which heats up quickly can be filled continuously, thus allowing long periods of uninterrupted work. The machine has an integrated temperature indicator, works entirely without chemical additives and is universal. The comprehensive equipment package includes 2 floor nozzles (for abrasive and hygienic cleaning), an integrated storage compartment for accessories, an integrated cable hook, as well as a holder for tubes for space-saving storage. (* in accordance with EN 16615, PVC floor, machine: SG 4/4 (floor nozzle with lamella, 30 cm/s, max. steam pressure, min. VapoHydro), test bacterium: Enterococcus hirae ATCC 10541, test virus: MVA, Murines Norovirus, Adenovirus.)
FEATURES AND BENEFITS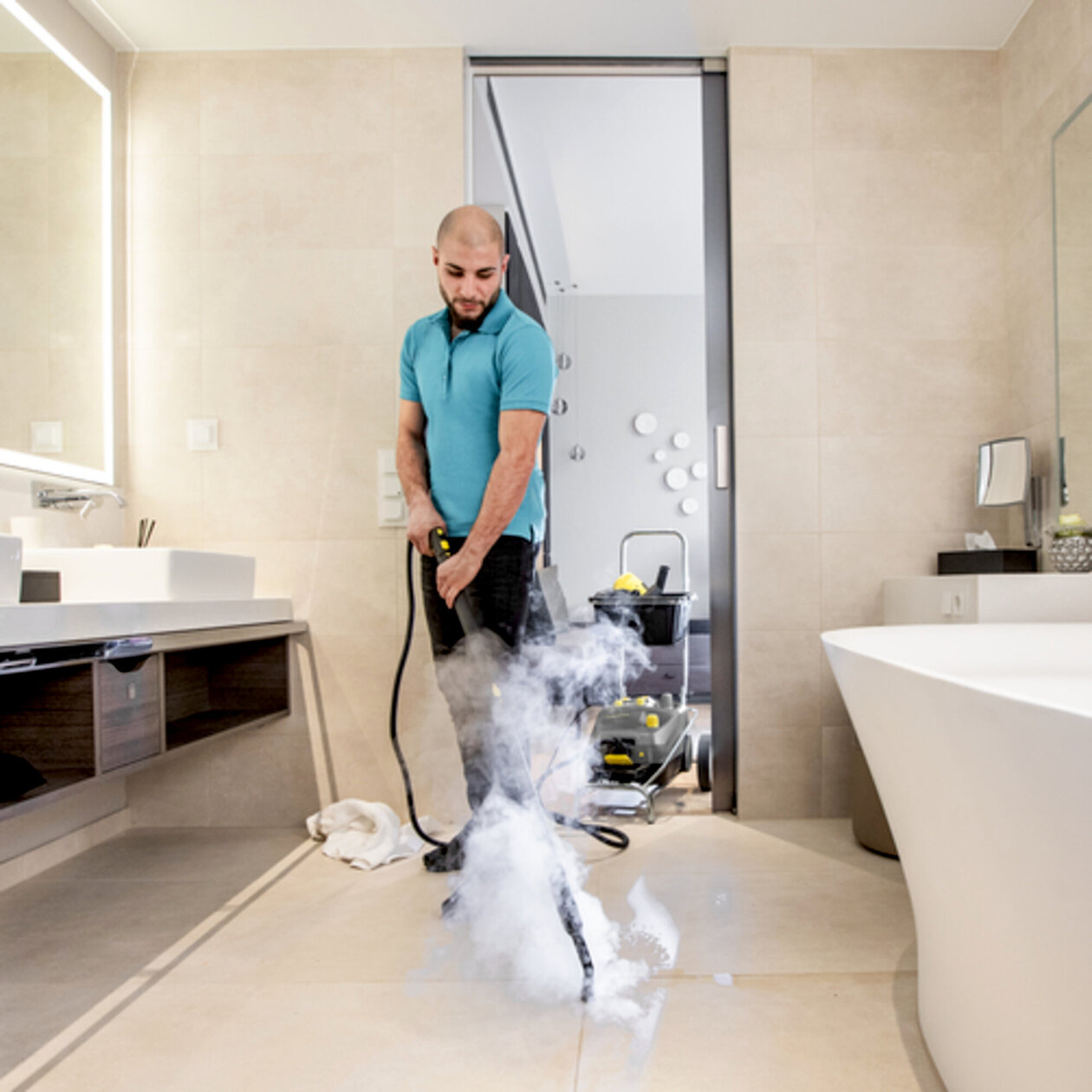 Certified and highly effective disinfection
Surface disinfection according to EN 16615 verified by external laboratory. Efficacy spectrum bactericidal and virucidal against enveloped viruses PLUS. Test germs: Enterococcus hirae, MVA, Murines Norovirus, Adenovirus.
Disinfection without chemicals
Resource-friendly and residue-free, as only cleaned with water. Maximum safety as the development of multiresistant germs is prevented.  Surface-friendly cleaning without chemicals.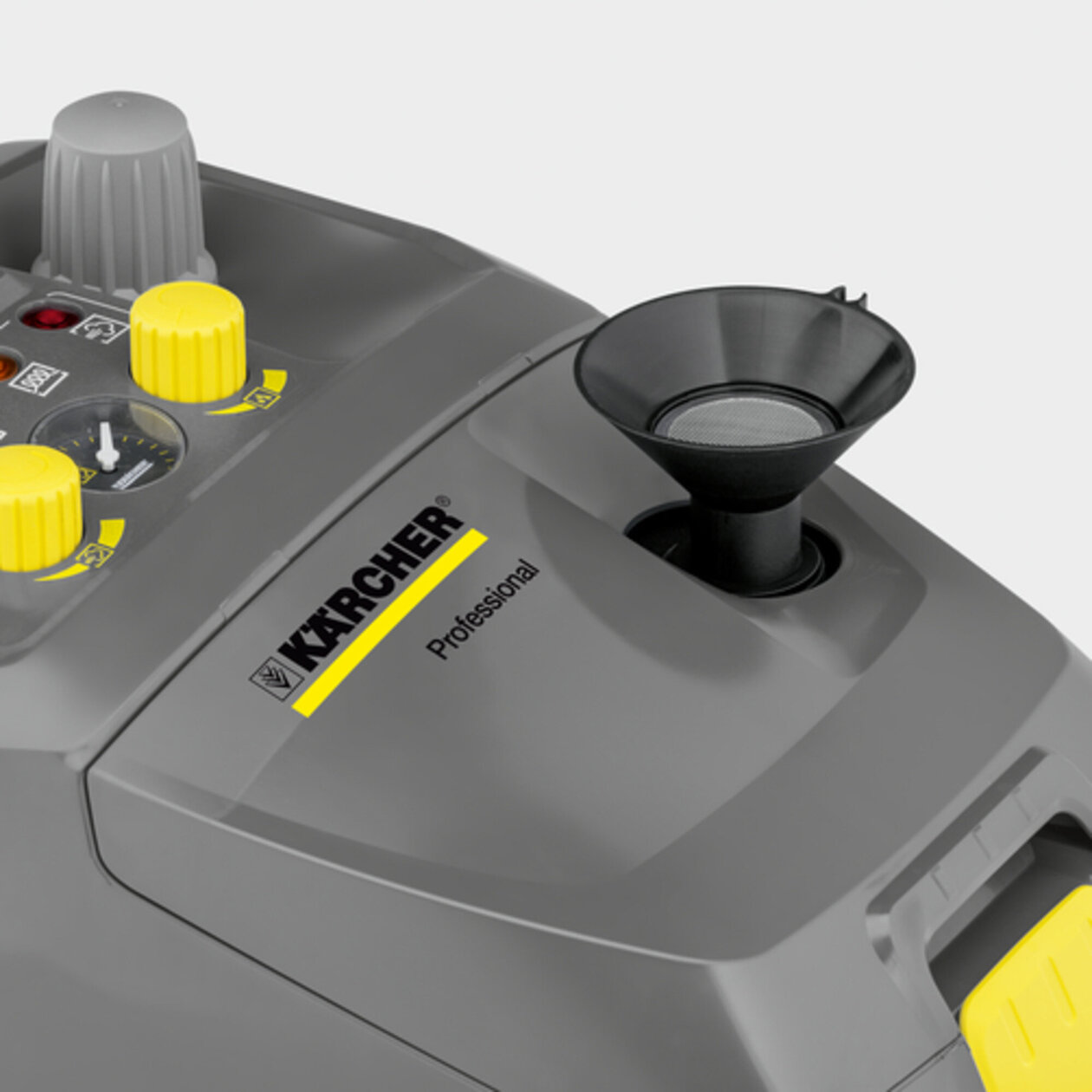 2-tank system
The fresh water tank can be filled continuously as boiler and tank are separate. There is constant steam formation in an instant as always only one part of the total volume is heated. With a total volume of over 4 litres, the SG 4/4 can be used for extended periods without refilling.
Thanks to

 

VapoHydro

, the steam intensity can be adapted to the respective cleaning task.
Apart from the steam pressure, the saturation can be continuously adjusted from full steam through to hot water.
With the hot water jet stubborn dirt can be effectively removed.
Storage compartment for accessories
The integrated storage compartment can be used to store various accessories.
Special small parts are always stored safely and do not get lost.
Even the tubes can be stored at the rear of unit.
SPECIFICATIONS
Technical data
Heating output (W)
2300
Tank capacity (l)
4
Cable length (m)
7,5
Steam pressure (bar)
4
Boiler temperature (°C)
max. 145
Voltage (V)
220 - 240
Frequency (

Hz

)
50 - 60
Weight without accessories (kg)
8
Weight incl. packaging (kg)
11,2
Dimensions (L × W × H) (mm)
475 x 320 x 275
Equipment
Steam suction hose with handle
Steam tubes 2 ×
Floor nozzle, 1x with slats, 1x with bristles
Hand nozzle
Round brush, black
Upholstery nozzle with brush
Power nozzle
Detail nozzle