Place your order in 1-Minute!
1. Choose an item you want to buy, choose the quantity and press the button "BUY IT NOW"
2. Fill and complete the requested details and press the button "CONTINUE TO DELIVERY COST"
3. Choose your delivery location and press the button "CONTINUE TO PAY ON DELIVERY"
4. Lastly, press on the button "CONFIRM ORDER" to place your order.
Shopping for multiple items? Add all items to your cart and access your cart on the top right corner to checkout
PAY ON DELIVERY LOCATIONS: Greater Accra, Kumasi, Takoradi, Tarkwa & Obuasi, Cape Coast.
Outside these locations? No problem! We ship nationwide but a full payment must be made before shipment.

Description
B 60 W Bp walk-behind scrubber drier. With brush head and disc brushes, adjustable brush contact pressure, 65 cm working width, maintenance-free battery (24 V, 180 Ah), traction drive and KIK key system for protection against incorrect operation. Extra feature: eco!efficiency mode extends battery life, tank rinsing system for automatic cleaning of the dirty water tank without splash back, auto-fill function for convenient filling of the water tank as well as Dose cleaning agent dosing system for direct dosing from the cleaning agent container. Tip: configuration example. This machine is available with a range of different equipment and features, e.g. different batteries, cable version or 55 cm working width.
FEATURES AND BENEFITS
Choice of four batteries
Battery types: maintenance-free 105 Ah (C5), maintenance-free 170 Ah (C5) with fleece technology, maintenance-free or low-maintenance 180 Ah (C5). Also available as a mains-operated version. The charging curve of the built-in charger is perfectly adjusted to the various battery types. For a long battery life.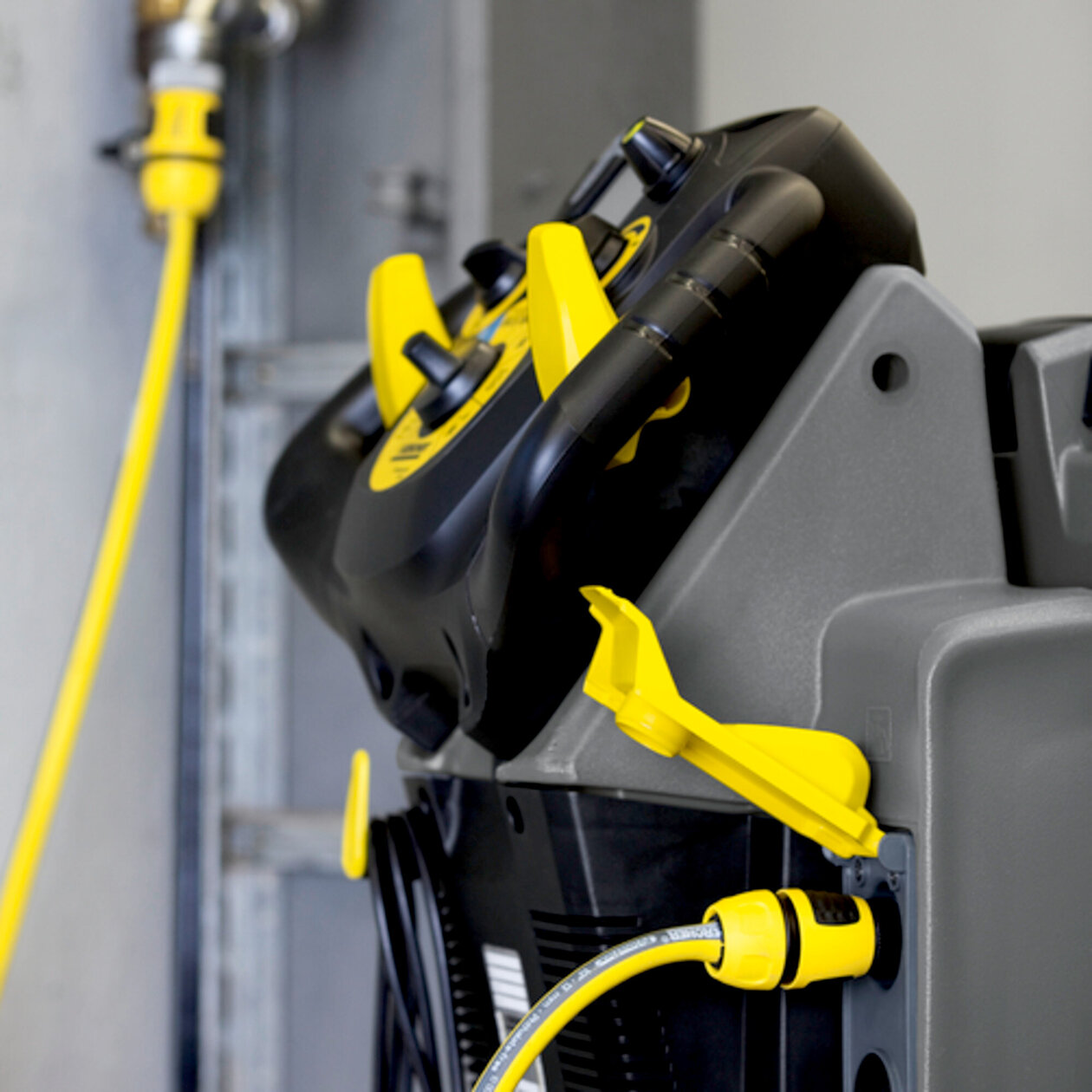 Convenient Auto Fill function
Time-saving filling of the fresh water tank. Filling via the fresh water hose stops automatically when the tank is full.
Brush head with disc engineering
Different working widths available from 51 to 65 cm. Simple brush replacement in seconds: unlocking the brush via foot pedal, locking by lowering the machine or clipping in manually.
EASY Operation selector switch
Simple operation.
The basic functions are easily controlled using the EASY switch.
Energy-saving
 

eco!efficiency

 

mode
For significantly reduced energy use and substantially longer battery runtime.
The

 

eco!efficiency

 

mode is extra quiet and optimal for noise-sensitive areas (such as hospitals or hotels).
Easy handling
Easy handling thanks to logically structured control elements with colour coding.
Simplified use and shortened teach-in time.
Adjustable brush contact pressure
The contact pressure can be set to five different levels.
Easy adjustment of the contact pressure.
Powerful traction drive
Infinitely variable forward and reverse drive in battery operation.
Maximum speed can be preset.
Straight or curved squeegee
Perfect suction on every floor.
Various squeegee blades available: natural rubber, oil-resistant polyurethane, slotted squeegee blades for sensitive floors or closed for rough floors.
Individually configurable device
Equipment features are freely selectable.
Perfect matching of the machine to the cleaning requirements.
Efficient solution.
SPECIFICATIONS
Technical data
Current type (V/

Hz

)
100 - 240 / 50 - 60
Working width, vacuuming (mm)
850
Max. area performance (m²/h)
3900
Practical area performance (m²/h)
2340
Fresh/dirty water tank (l)
60 / 60
Brush contact pressure (g/cm²)
26
Brush speed (rpm)
180
Rated input power (W)
max. 2100
Traction motor (W)
300
Voltage, charger (V/

Hz

)
100 - 240 / 50 - 60
Battery (V/Ah)
24 / 180
Sound pressure level (dB(A))
61
Weight (with accessories) (kg)
113
Dimensions (L × W × H) (mm)
1520 x 746 x 1147
Equipment
Disc brush
Tin
Tank-in-tank design