Place your order in 1-Minute!
1. Choose an item you want to buy, choose the quantity and press the button "BUY IT NOW"
2. Fill and complete the requested details and press the button "CONTINUE TO DELIVERY COST"
3. Choose your delivery location and press the button "CONTINUE TO PAY ON DELIVERY"
4. Lastly, press on the button "CONFIRM ORDER" to place your order.
Shopping for multiple items? Add all items to your cart and access your cart on the top right corner to checkout
PAY ON DELIVERY LOCATIONS: Greater Accra, Kumasi, Takoradi, Tarkwa & Obuasi, Cape Coast.
Outside these locations? No problem! We ship nationwide but a full payment must be made before shipment.

Description
Sweeps five times faster than with a brush: the convenient S 650 makes it possible – and is easy on your back. The sturdy, corrosion-resistant sweeper has a total sweeping width of 650 mm and features a powerful roller brush and two side brushes. The device is ideal for areas of 40 m² or larger. The machine draws the waste directly into the 16-litre waste container and delivers outstanding cleaning results. The robust sweeper is extremely easy to manoeuvre. The extra long bristles on the side brushes ensure thorough cleaning right up to the edges. The height-adjustable push handle with two height positions and thermo handle can be adjusted to the height of the individual operator and completely folded down if necessary for compact, upright storage. The sweeping container can be easily removed and safely set down and emptied without coming into contact with the dirt.
FEATURES AND BENEFITS
Two side brushes (S 650)
Greater flexibility with two side brushes. The long bristles ensure thorough cleaning even on edges.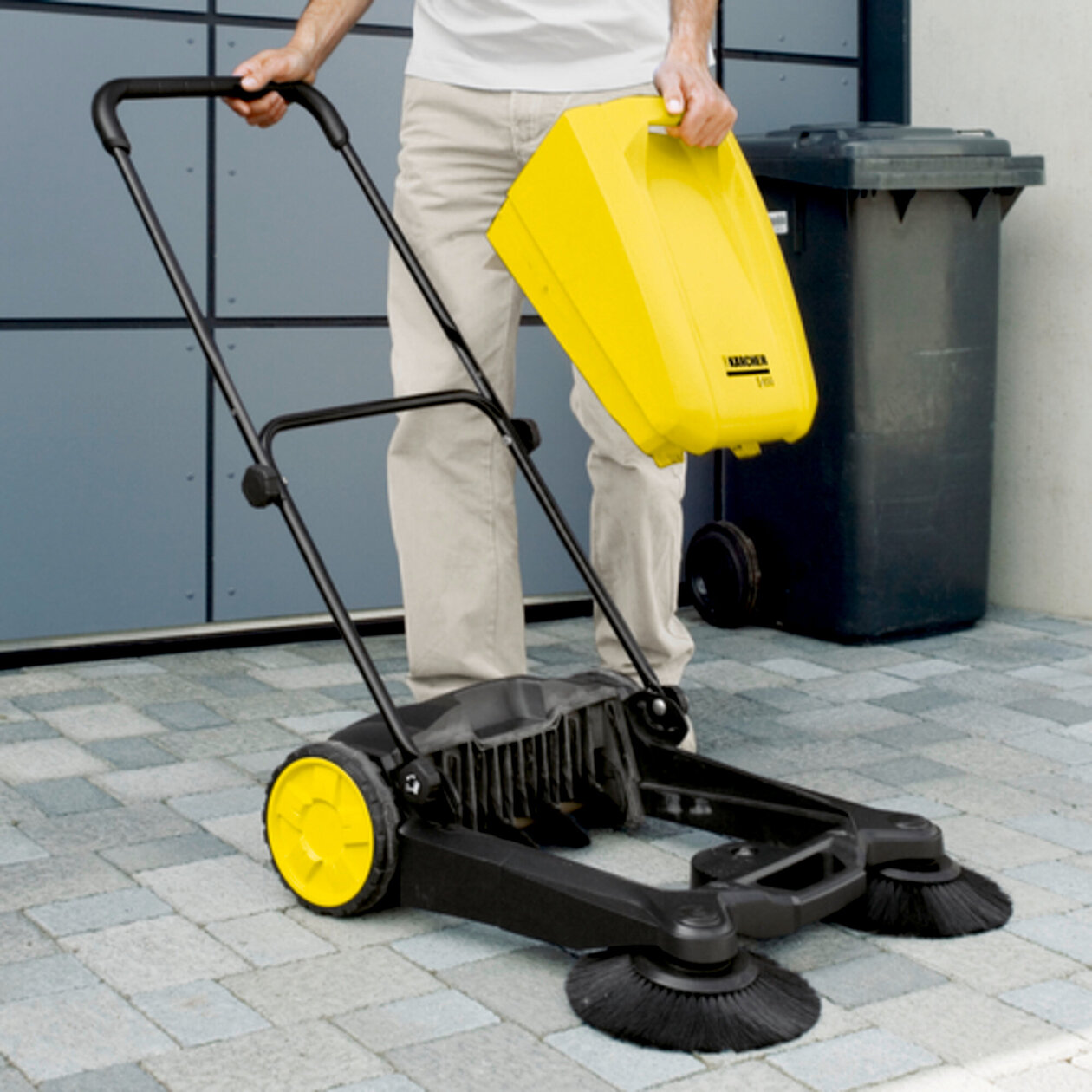 No contact with dirt
Convenient waste container: waste is drawn directly into the container, which can be easily removed and emptied.
Space-saving storage
With its fold-down push handle, the sweeper can be stored upright, thus taking up very little space.
Adjustable push handle with comfortable grip
Thermally-clad (S 650) and height-adjustable (extendable with two angle adjustments). For sweeping that is easy on your back.
Stand-alone waste container
The waste container is easy to remove and is designed so that it can be safely set down.
Comfortable carrying handle
The sweeper is easy to transport.
SPECIFICATIONS
Technical data
| | |
| --- | --- |
| Working width with side brush (mm) | 650 |
| Max. area performance (m²/h) | 1800 |
| Casing/frame | Plastic/Plastic |
| Waste container (l) | 16 |
| Recommended for areas over (m²) | 40 |
| Weight without accessories (kg) | 9.7 |
| Weight, ready to uset (kg) | 10.8 |
| Weight incl. packaging (kg) | 10.8 |
| Dimensions (L × W × H) (mm) | 690 x 670 x 930 |
Equipment
Number of side brushes, 2 piece(s)