Place your order in 1-Minute!
1. Choose an item you want to buy, choose the quantity and press the button "BUY IT NOW"
2. Fill and complete the requested details and press the button "CONTINUE TO DELIVERY COST"
3. Choose your delivery location and press the button "CONTINUE TO PAY ON DELIVERY"
4. Lastly, press on the button "CONFIRM ORDER" to place your order.
Shopping for multiple items? Add all items to your cart and access your cart on the top right corner to checkout
PAY ON DELIVERY LOCATIONS: Greater Accra, Kumasi, Takoradi, Tarkwa & Obuasi, Cape Coast.
Outside these locations? No problem! We ship nationwide but a full payment must be made before shipment.

Description
The Kärcher WD 5 Wet & Dry vacuum cleaner is an extremely powerful vacuum cleaner for the car, garage and garden. With a power consumption of just 1,100 watts and a robust, impact resistant 25L container the WD 5 is perfect for the tasks too tough for your indoor vacuum. Complete with a flat pleated filter, the innovative filter technology makes emptying the WD 5 quick and easy for no contact with the filter or dirt. The flat pleated filter is ideal for wet and dry vacuuming with no need for filter replacement. Thanks to the integrated filter cleaning function, the dirty filter can be quickly and easily cleaned simply by pressing the button to move the dirt into the container, thus quickly restoring the suction power. Equipped with features such as a blower function to dislodge dust from corners and harder to reach areas, a removable handle to easily attach different nozzles, electrostatic protection for vacuuming fine dust and on board-storage so the hose, power cable and accessories are always to hand. The WD 5 comes complete with a 2.2m suction hose, 2x 0.5m suction tubes, wet to dry floor tool and fleece filter bag.
FEATURES AND BENEFITS
Patented filter removal technology
Quick and easy removal of the filter from the filter box – without contact with dirt. For wet and dry suction without changing the filter.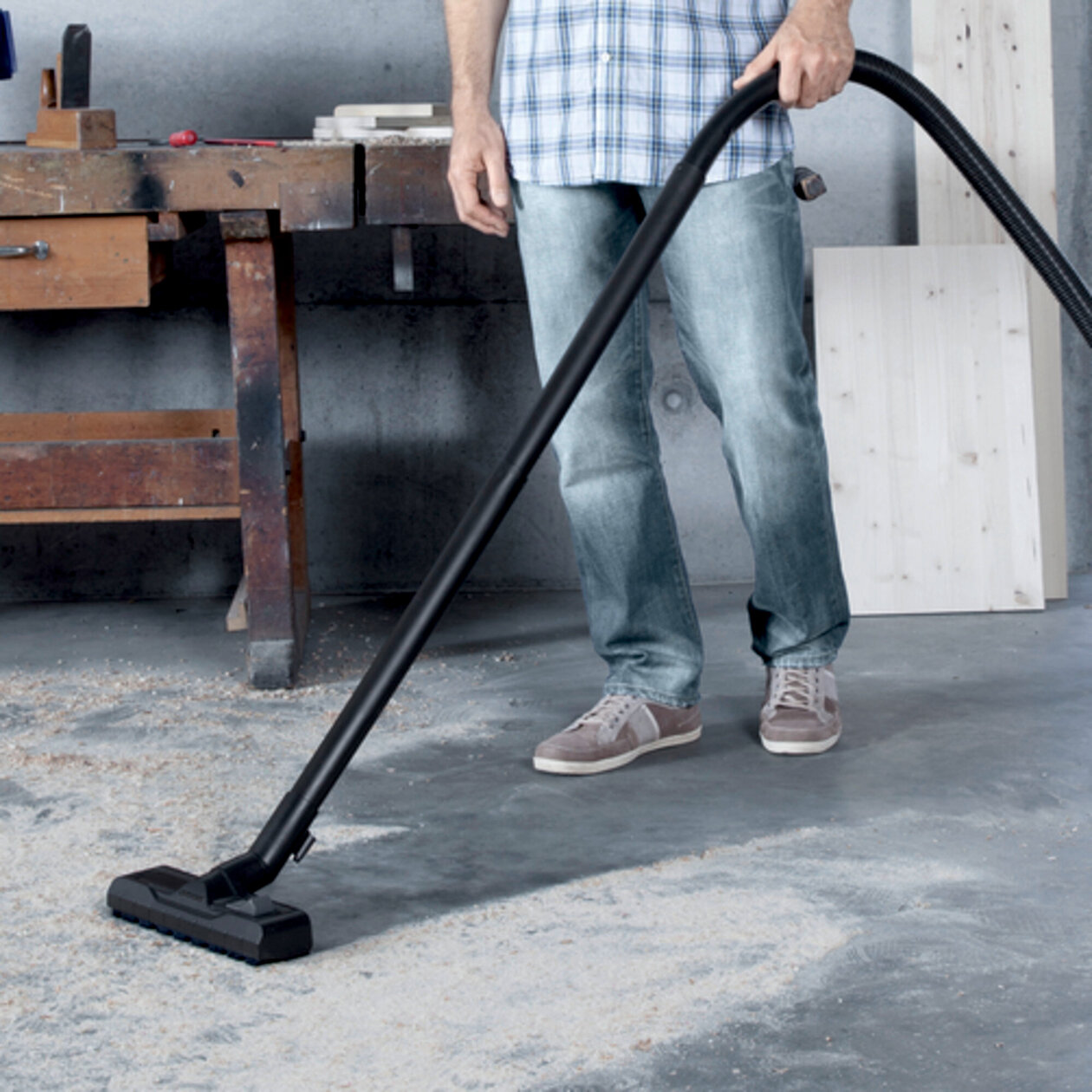 Newly developed floor nozzle and suction hose
For perfect cleaning results, with dry or wet, fine or coarse dirt. For maximum convenience and flexibility when vacuuming.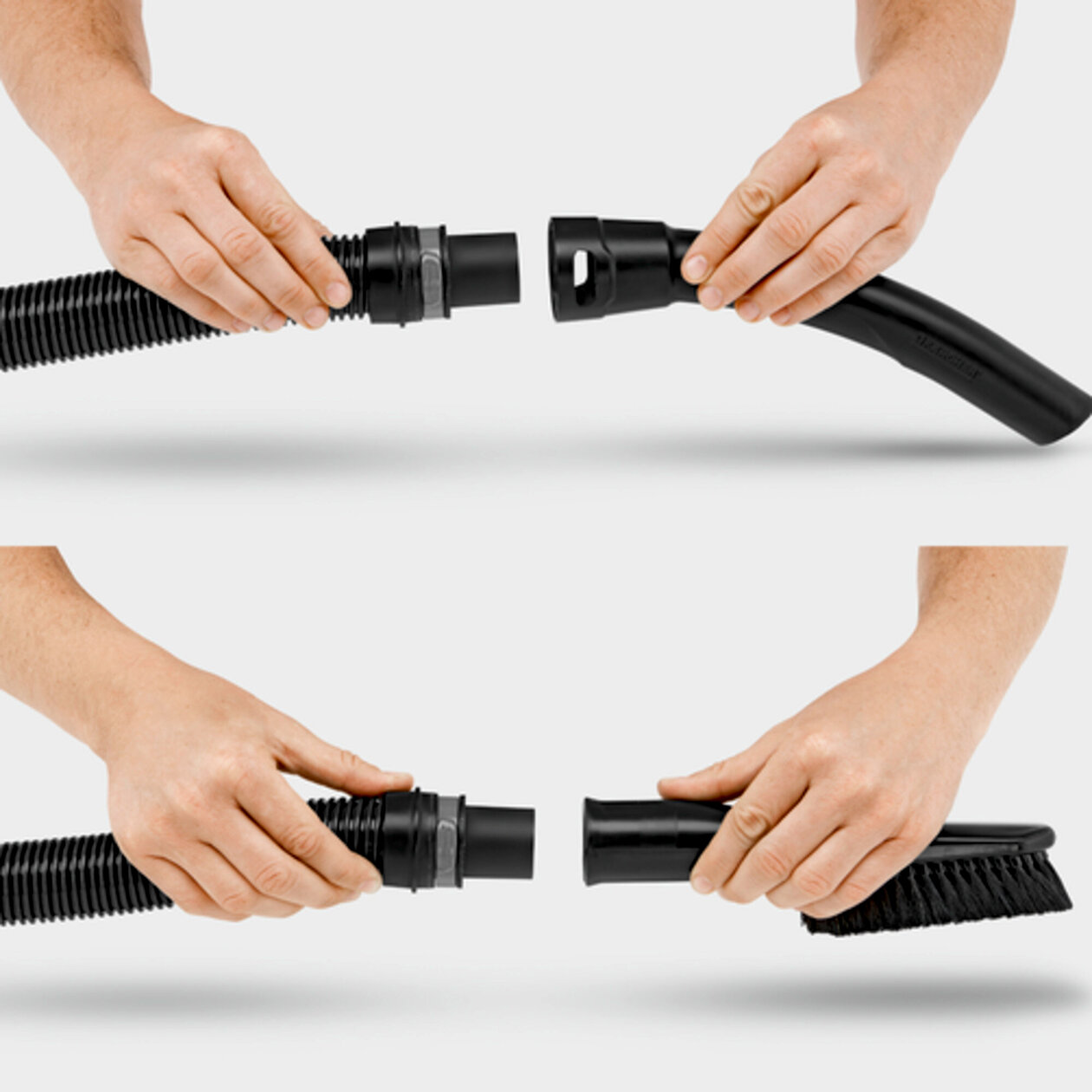 Removable handle
Offers the possibility of attaching different nozzles directly on the suction hose. For easy vacuuming even in the tightest of spaces.
Exceptional filter cleaning
Powerful pulsed air blasts move the dirt from the filter into the container at the push of a button.
Suction performance is quickly restored.
Practical blower function
The practical blower function helps wherever vacuuming is not possible.
Effortless dirt removal e.g. from a gravel pit.
Practical parking position
Quick and convenient temporary storage of suction tube and floor nozzle during breaks.
Practical cable and accessory storage
Space-saving, safe and easy-to-reach storage of suction hose, connection cable and accessories.
Patented 3-in-1 carrying handle.
Convenient transport of the unit.
Easy and quick opening, closing and emptying of the container.
SPECIFICATIONS
Technical data
Real suction power* (Air Watt)
240
Energy use (W)
1100
Container capacity (l)
25
Container material
Plastic
Power Cable (m)
5
Standard accessory (mm)
35
Current type (V/

Hz

)
220 - 240 / 50 - 60
Weight without accessories (kg)
8.2
Weight incl. packaging (kg)
11.3
Dimensions (L x W x H) (mm)
418 x 382 x 652
--
* Measured by the suction tubes according to the standardised IEC 60312 method of measurement.
Equipment
Suction hose, 2.2 m
Removable handle with electrostatic protection
Suction tubes, 2 piece(s), 0.5 m, 35 mm, Plastic
Wet and dry floor nozzle, switchable floor nozzle with 2 rubber & 2 brush strips
Flat pleated filter, in removable filter cartridge
Crevice nozzle
Fleece filter bag, 1 piece(s)
Blower function
Parking position
Filter cleaning
Sturdy bumper
Rotary switch (On/Off)
Comfortable 3in1 carry handle
Accessory storage on the device