Description
Steel pipe tee has three branches that can change fluid direction. Steel tee is widely used in pipe networks for convey liquids and gases.
Stainless steel tee is widely used in chemical, health, food and other industries. Its advantages are applicable to different working environments and have good corrosion resistance.
Standards: ASTM A403 (Common Standard for stainless steel pipe fittings), ASTM A270 (Sanitary Tubing Standard)
Grade: TP 304, 304L, 316, 316L, 310, 317 and 321.
Applications
• Oil and gas transmissions
• Petroleum and Oil refining
• Water treatment systems
• Chemical Industries
• Sanitary tubing
• Power stations
• Machines and equipment
• Heat Exchanger
Equal tee: Three branches of tee have same diameters. Also named as Straight Tee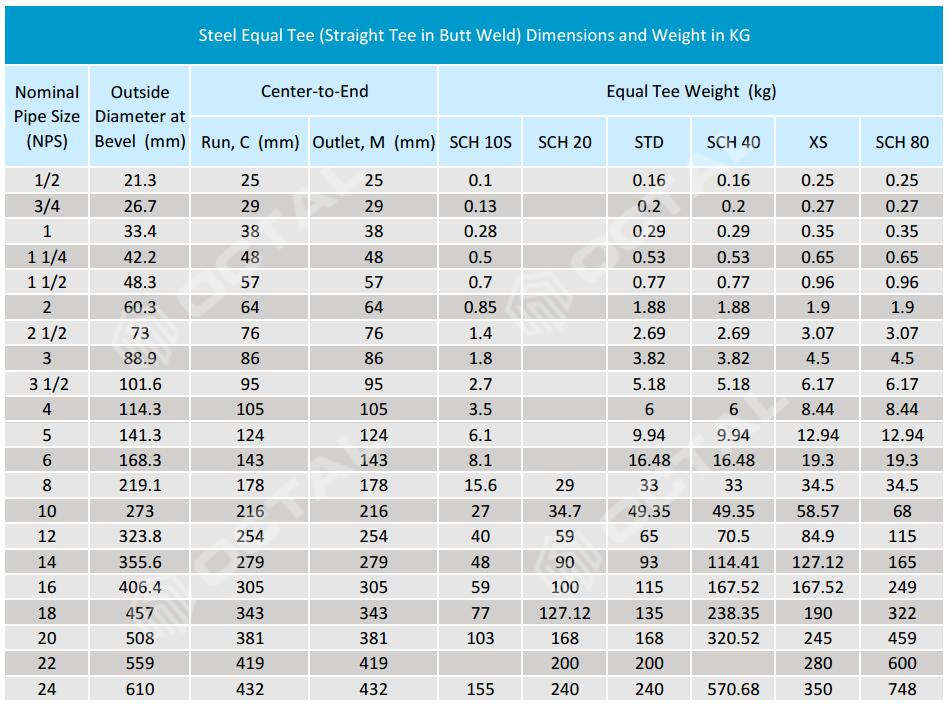 Butt Weld Tee
Butt weld tee is widely used in petroleum, aerospace pharmacy, chemical industry, metallurgy, electric power, military industry, engineering support and other industrial pipelines.
Ends in plain or beveled, connected by butt welding process. It can withstand higher pressure than other types. The size of butt weld tee should be specified in pipe NPS (DN) and thickness in schedule, where the socket weld tee or thread tee thickness should be specified in the pressure level.
Butt weld tee is divided into seamless cold-drawn tee and seam welding tee in the production process.
Payment & Security